The Best Punjabi Wedding Venue in London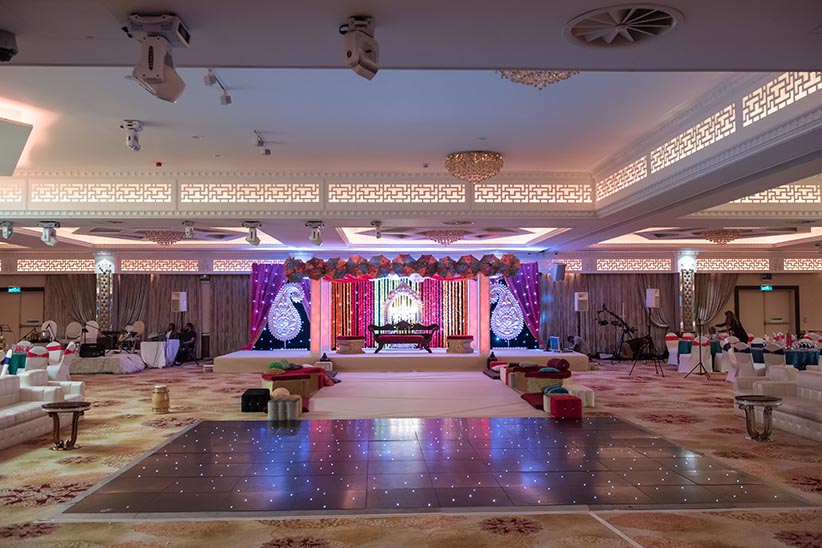 What's more authentic than the sound of thunderous drums and angelic singing? At Grand Sapphire, you can experience a whole lot of both during your Punjabi wedding in London. With gorgeous décor that will leave any guest speechless in awe, an open bar, glitzy outfits, and lip-smacking food, this style is truly something special.
The essence of Punjabi weddings is rooted in tradition and ritual. So, we will take a look at every ritual meticulously:
How a Punjabi Wedding Happens?
Roka & Thaka:
The first ritual of a promising relationship is Roka, when the bride's family goes to the groom's house to shower his family with gifts such as fruits, dresses, sweets, and more.
Similarly, the couple also receives gifts and Shagun, after the groom's side also does the same. This loving gesture is known as Thaka.
Chunni:
This rite is an old practice that welcomes the girl into her new family. Then, the groom's mother, along with others, visits the bride to present her with a red-colored drape – chunni – to bless her.
Sagai:
When two people come together to exchange their vows, it is an emotional moment that asks for celebration. The engagement ritualizes this exchange of rings between the couple in which family members participate with a small puja.
Sangeet: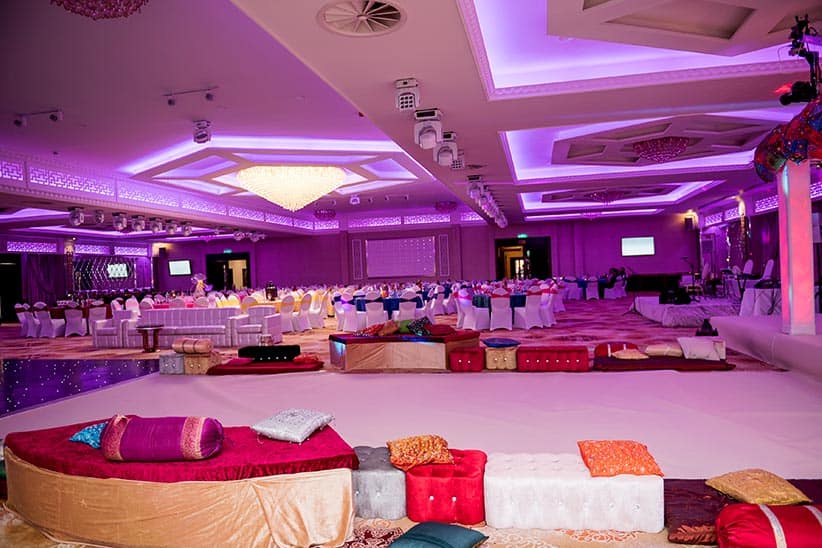 The Sangeet is an eve of dance and music that unites families. Mostly the bride's family arranges the event for women to get together and celebrate with folk songs from their culture or those passed down over time.
Today though, there are many variations on what this entails. For example, some hosts might organise an all-inclusive party with artists, choreographed dances, and more.
Mehndi: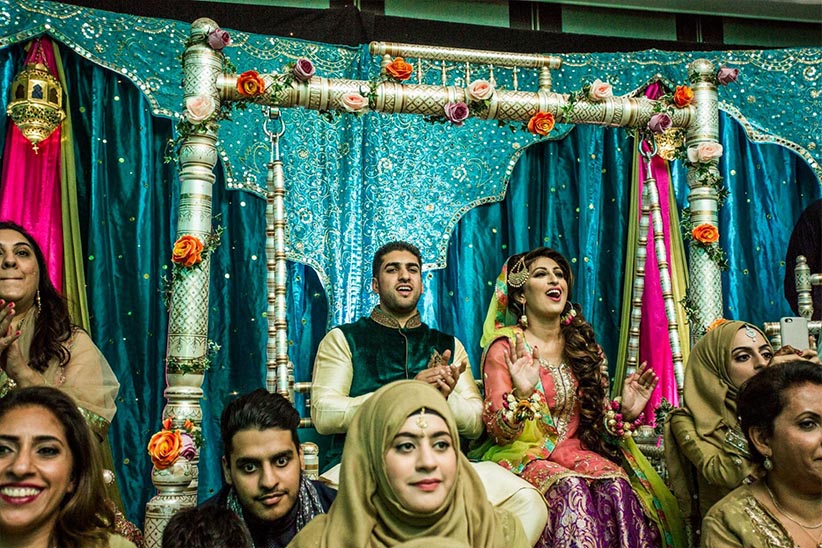 Indian weddings are not just about celebrating two people but also an entire culture. The Mehndi – which usually happens during the day – is one of these aspects that brings together all parties involved in this celebration. Guests and family members alike get their hands painted with henna to symbolise unity as well as strength through diversity.
Jaggo:
This Indian wedding tradition occurs the night before to swear eternal love between both sides. Punjabis celebrate it by blasting music, showing fireworks, and dancing until late at night. They enjoy sweets from friends' houses while singing folks together as partaking tells it like a never-ending party.
The Wedding Day Punjabi Rituals:
Kangana Bandhana:
The first ceremony on any Hindu wedding day is the puja which starts off with this sacred ritual where prayers are said before anything else happens, including tying a strand – mouli – together with a betel nut and shell on the couple's right wrists signifying good luck forevermore.
Chura & Kaleerein:
A set of bangles that a bride wears on her main event and after it too is a standard tradition in Punjabi wedding events. After being soaked in the milk for purification, these are placed on them to symbolise beauty through rejuvenation, followed by the wedding attire.
Then, the bride's girl gang ties Kaleerein to her wrists and embellishes it with items like betel nuts and some dry fruits. The newly married woman then shakes it over herself to find out who will be next in line for marriage.
Haldi & Ghara Gharoli:
The Haldi rite is a vital part of Indian weddings. The couple is covered with a paste with turmeric as its main ingredient and includes sandalwood oil to give them some shine for their special day.
In Ghara Gharoli, the bride and groom take a holy bath in the temple, after which they return home for more preparation.
Sehra Bandi:
The wedding proceedings begin with a small puja for the groom, who has now been deemed worthy, to walk down an aisle with a Sehra underneath his turban.
Milni:
The groom on his mare and his entourage are greeted with a hearty welcome at the venue by his in-laws. First, the bride's mother receives him with a ritual that includes tikka and aarti. Then everyone embraces each other joyfully.
Varmala:
When a couple is married, they enjoy an intimate ceremony with their loved ones. The most important part of this celebration happens when the groom arrives and meets his new wife on stage. The Varmala is the exchange of garland at weddings between the groom and his wife.
Kanyadaan:
The Kanyadaan is a tradition that exists in every culture worldwide. When a father gives away his daughter's hand to someone else, with Vedic chants playing throughout this sacred ceremony, it is known as Kanyadaan. The groom promises protection as well as loyalty towards her till the end.
Mangal Pheray:
The bride and groom stand before the sacred fire, symbolising their vows. They tie together one end of each piece of clothes and move in a circle to represent unity with each other. Next, the bride and groom take turns leading each other around their fire as they perform an ancient ritual, symbolising eternal love. The bride leads the pheray for the first three circles, with the groom performing the last one.
Lajahom:
Then, the bride's brother pours some puffed rice into the couple's hands which they throw in the fire thrice to seek happiness and blessings.
Sindoor Daan:
The groom applies sindoor to the bride and ties a mangalsutra around her neck, signifying their binding together for life.
Vidaai & Doli:
In this final goodbye, the bride gets ready to leave for her in-laws. It is a moment punctuated by tearful embraces. She throws rice toward the house as a gesture of gratitude. Then, she climbs onto a car filled with flowers just like any other wedding day and leaves with her husband.
Punjabi Wedding Food – A Life Experience in Itself:
There is nothing better than a Punjabi wedding when looking for some excellent Punjabi cuisine. You will find all your favourite dishes like Paneer/Chicken Tikka and Tandoori Chicken along with other favourites such as Palak Paneer, Dal Makhni, Chana Masala, Amritsari Kulcha, Dahi Bhalla, Lassi, Atta Halwa, Bhature, Puri, and whatnot.
Grand Sapphire hosts your wedding like it is meant to be. We understand the importance of all Punjabi cuisine and bring its authentic taste in the Punjabi style.
Make Your Punjabi Wedding Memorable at Grand Sapphire: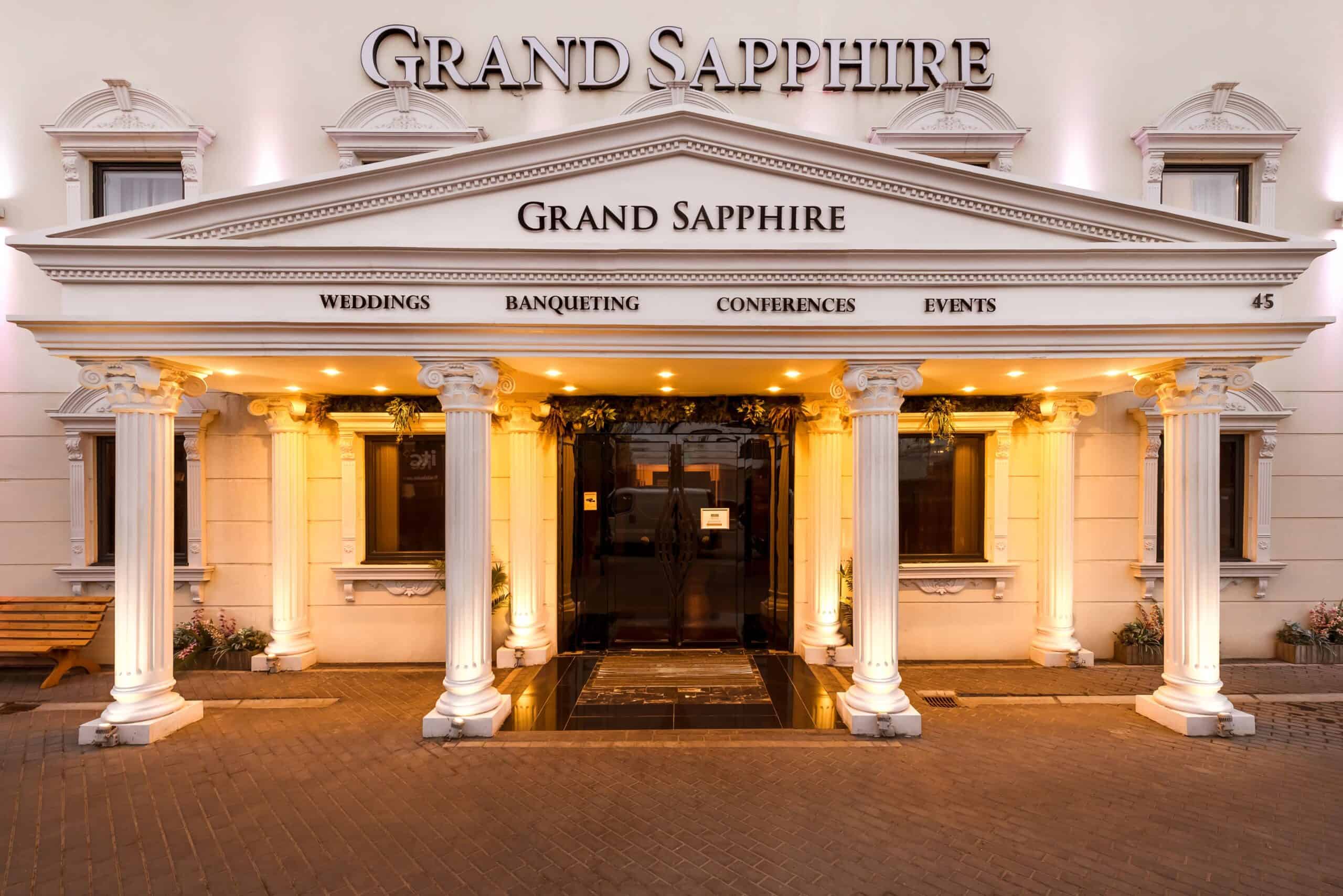 When looking for a venue in London that will make your guests feel like they are in Punjab, look no further than Grand Sapphire. We have got a huge space to fit everyone and everything you could ever want. Plus, we offer a rich-in-taste buffet, so every mouth is satisfied.
The traditional Punjabi wedding is a once-in-a-lifetime event that you will not want to miss. We take care of all aspects and ensure authenticity, so come experience the real deal with us.
Frequently Asked Questions:
Why should I choose Grand Sapphire for my Punjabi wedding event?
Grand Sapphire understands that each culture has its own set of values, traditions, and practices. Our team will maintain these traditional values while also implementing new ideas for your big day.
How can I be sure of your food taste for my wedding?
When looking for a new catering service, the food must taste great. We understand this is why Grand Sapphire organises weekly tasting sessions with our delicious dishes so we can ensure your satisfaction before serving up any plates.
What sort of banquet halls do you offer for weddings?
We have four lavish and enormous venues such as Sapphire, Rhubarb, Emirates Suits, and Grand Ballroom. You can choose any according to your preference.
What type of Punjabi wedding do you cater?
Not only Indian, but we also organise Pakistani Punjabi weddings. Punjab is not a territory but a culture and a heart among everyone living in every corner of life. You can take a brief look here:

Grand Sapphire London. All Rights Reserved. 2023